Posted: 1/5/09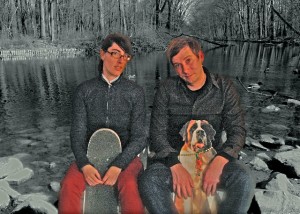 ย Glitterbug (aka Till Rohmann) & Macaroni (aka Ronni Shendar), the two artists behind c.sides, are also performing and producing together- from art projects that they do together under the moniker of 'macabug' to live performances. In the festival, they will do a joint live performance based on glitterbugs last, internationally celebrated, album 'supershelter', joined by Ronni Shendars stunning cinematic live visuals.
ย 
ื'ืœื™ื˜ืจื'ืื' (ื˜ื™ืœ ืจื•ืžืŸ) ื•ืžืงืจื•ื ื™ (ืจื•ื ื™ ืฉืŸ-ื"ืจ), ืฆืžื" ื"ืืžื ื™ื, ื"ื™ื–ืžื™ื, ื•ื"ืžืคื™ืงื™ื ืฉืœ 'ืกื™ ืกื™ื™ื"ื–' ื™ื•ืฆืจื™ื ื•ืžื•ืคื™ืขื™ื ื™ื—ื"ื™ื• ืชื—ืช ื"ื›ื™ื ื•ื™ 'ืžืงื'ืื''. ืžื•ืคืข ื"ืื•ื"ื™ื•-ื•ื™ื–ื•ืืœื™ ื"ืžืฉื•ืชืฃ ืฉืœื"ื ืžื'ื•ืกืก ืขืœ ืืœื'ื•ืžื• ืขื˜ื•ืจ ื"ืฉื'ื—ื™ื ืฉืœ ื'ืœื™ื˜ืจื'ืื' 'supershelter' ื"ืžืœื•ื•ื" ื'ืกื˜ ื•ื™ื"ืื• ืฉืœ ืžืงืจื•ื ื™ ื"ืžืฉืœื'ืช ื'ื™ืŸ ืฉืคื" ืงื•ืœื ื•ืขื™ืช ื•ื˜ื›ื ื™ืงื•ืช ื•ื™ื''ื™.
***
About glitterbug:
Glitterbug started developing his unique musical racket and hum in the late 80โ€™s in illegal acid parties and continued in Cologneโ€™s experimental techno scene in the 90โ€™s, strongly infused with a deep love for gay house music, the early Chicago and the later Detroit sound. Combining the many worlds his feet tap in, glitterbug has been trying to bring together new ideas, notions, content and emotions into new flavors that always are aimed at the heart. Since 2004 glitterbug has spent much of his time in Israel performing on a hectic DJ schedule and helping to develop the independent techno scene in Israel through artist exchanges, bookings and the esteemed โ€˜c.sides festival for electronic music and critical media artsโ€™, which he jointly initiated and curates with c.sidesโ€™ other half, Ronni Shendar, since its beginning in 2004. In between all of this, he is still finding time for extensive touring- mainly in the USA and Japan, if he is not running around in the Middle East or stuck in his studio.
Based mostly in Cologne (with exhaustive global miles and one foot in Israel) glitterbug has spent the last 5 years establishing the c.sides platform and renowned electronic music festival in Israel and the last decade in countless projects – from his epic, heartbreaking dancefloor mad dj sets (with impeccable 3 turntable mixing skills), to composing film music, experimental radio play, creating video and audio installations to curating exhibitions, lectures and endless public events, glitterbugโ€™s engine has been roaring with multitude of platforms for creativity around the world and drawing his very special global fan base.
About Ronni Shendar:
Ronni Shendar is an Israeli artist working mainly in digital photography and video generating works that combine very abstract aesthetic notions and inconsolable ominous moods of forlorn departures while disputing fairly common and oddly comfortable oppressive structures. She has been working in concurrent fields of new media art and music, cultural organizing and social critique and action internationally.
***